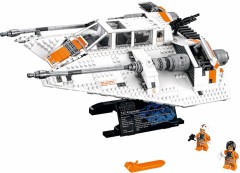 The Ultimate Collector's Series was lambasted last year but the announcement of 75144 Snowspeeder seems to have been met with an exceedingly positive reaction. The T-47 Airspeeder is a very popular vehicle and was previously rendered at this scale in 10129 Rebel Snowspeeder, an impressive model which now commands a high price.
However, fourteen years have passed since the earlier set was released and relatively few fans have been collecting consistently since 2003. Furthermore, the range of parts available has altered quite dramatically during that time so this model appears to be a considerable improvement over the original and is therefore a worthy successor in my opinion.
13 comments, latest one posted 13 minutes ago.
27 likes