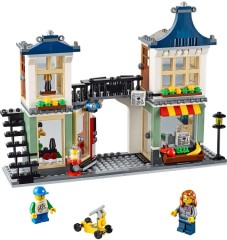 In the second of his reviews of this year's Creator sets, Shib takes a look at 31036 Toy and Grocery Shop:
For quite some time now, LEGO have been putting out houses under the 3-in-1 Creator line, so following on from last year's 31026 Bike Shop & Cafe we have a smaller offering into a line of 3-in-1 shops. The Toy and Grocery Shop is nearly half the cost but also under half the piece count, and I assume this is to cater similar set content to different budgets, but how does that price point effect what the buyer gets?
13 comments, latest one posted 1 minute ago.