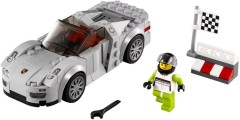 The Speed Champions sets will all be available for general sale from Sunday, although many have already made it into stores and proven quite popular thus far.
Of the four smallest Speed Champions sets, 75910 Porsche 918 Spyder was probably the one I was least excited for, mainly because I didn't think the open top would look as attractive as the hardtop cars in the range. I am not sure whether or not that is still the case.
The Porsche 918 Spyder is priced at £12.99 or $14.99 in LEGO form, while the actual car will cost you in the region of $850,000, which is inexpensive beside the LaFerrari and McLaren P1. I tried my best to persuade Huw that we would need to acquire the actual car for me to compare the model with, but alas you will have to make do with my impressions based on a comparison with images.
7 comments, latest one posted about 2 hours ago.