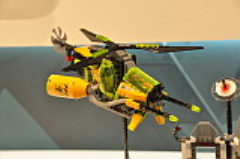 Austrian site Spieletest.at has published pictures from the LEGO stand at the Nuremburg Toy Fair showing some sets that haven't already been covered, including Untra Agents, Mixels series 2 and 3, Friends and more.
I haven't seen images of Super Heroes or The Hobbit sets yet so we must conclude that LEGO was not allowing them to be photographed.
Via Neoape.
Commenting has ended on this article.