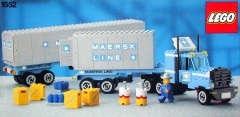 Those of you that have been visiting Brickset for some years will know that I visited the LEGO Company's archives back in 2004 when I was in Billund visiting the designers of the X-Pod sets to discuss a project that later emerged as X-PodWorld.com (anyone remember that?)
Anyway, I had limited time in the archives so had to be very targeted in what I photographed. I therefore tried to find as many promotional sets as I could, particularly those from the 1980s which we didn't have good photos for. I added them here at the time, but for some reason some of them have been overwritten by inferior images in the intervening years. So, having finished processing the images from our latest visit, I thought I'd dig them out again, clean and straighten them up and ask bluemoose to work his magic on post-processing them. They've come out quite well, although not as good as the latest batch because, of course, in 1994, digital photography was in its infancy. So, here are some of the highlights:
You can read about my first visit in this article from the company's in-house magazine, LEGO Life. I could have looked a bit happer, holding one of the rarest sets ever, couldn't I :-)
Unfortunately the archive has been moved from where I visited it in 2004 and the new archive no longer holds most of the rare promotional sets, so fans may never get a chance to photograph them again...
Commenting has ended on this article.