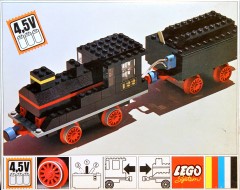 It's been almost a year since bluemoose and I visited the LEGO archives in Billund, and now, finally, I have added the last batch of images taken in there. Our priority during the two day visit was to photograph sets from the 1970s as well as Fabuland and Dacta sets. Once we'd finished those we had a couple of hours spare so we went back to the first shelf in the archive to make a start on the 1960s. Starting at 1969, we went back to 1966 which I consider to be the 'birth of the modern era' of LEGO sets: the die cast cars and vehicles were just about finished and the 4.5v 'blue rail' trains were introduced.
I've populated the database with all sets from 1966-1969 that were available in Europe and which are not boxes of bricks or service packs (of which there were many, are very complicated and beyond the scope of Brickset at the moment). You can see them here: 1966 | 1967 | 1968 | 1969
It's interesting to note that some of the train sets released in that era were very sophsticated, with some having sonic remote control by means of a whistle (138, 139): it would be decades before remote control trains would be available again!
I hope you've either enjoyed the trip down memory lane over the last few months, if you're old enough, or liked seeing the sets your dad, and maybe grandad had as kids!
So, I guess it just leaves me to thank Mark and Megan for organising the visit, Jette in the Idea House for letting us handle and photograph the precious sets, and finally bluemoose for the photography and image post-processing. Now to organise the next visit...
Commenting has ended on this article.