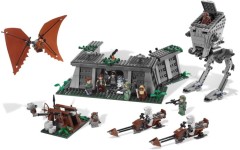 Target has the following sets on sale for 30% Off:
Battle of Endor (8038), Galactic Enforcer (5974), Neptune Carrier (8075), Anakin's Y Wing (8037), Tie Defender (8087), Hyperspeed Pursuit (5973), AAT (8018), Lavatraz (8191), Gateway of the Squid (8061), Pizza Planet Delivery Truck (7598), Gator Swamp (8899), Claw Catcher (8190), Lunar Limo (5984), Undercover Cruiser (5983), Separtists Shuttle (8036), Buzz's Starfighter (7593), Echo Base (7749), Corporate Alliance Tank Droid (7748), Smash 'n' Grab (5982), Magma Mech (8189), Seabed Scavenger (8059)
Additionally, the Venator Republic Attack Cruiser (8039) is currently on sale for 25% Off.
Lastly, don't forget that it's also Buy One, Get One 50% Off on all Prince of Persia sets. This may be your last opportuntity to pick up sets from the now discontinued Prince of Persia, Toy Story, Power Miners, and Space Police themes so don't lollygag. :o) Click here to buy now.
Commenting has ended on this article.