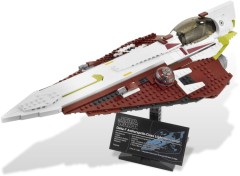 I have it on good authority that the Obi-Wan's Jedi Startfighter (10215) will be reduced by 30% tomorrow to a more reasonable £66-ish.
LEGO has come to its senses, it seems, probably prompted by a huge unsold stack of them in a warehouse at Billund! It's an excellent model and a very interesting build, but probably not, if I'm honest, worth £95. But £66 is much nearer the mark and if you've been holding out for its price to drop, well, now you're in luck. It'll be at that price until the end of January.
Update: It being tomorrow now :-), the price has indeed been reduced by 30%...
Commenting has ended on this article.