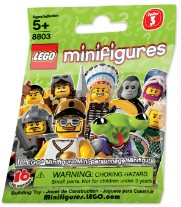 Prompted by lukehankenobi's report yesterday about the Brighton store, I went there today, on a detour to picking up Granny for Christmas (luckily only about a 10 mile one). I picked up all but one of the Star Wars sets (all but 7869, which wasn't there but I did get the T6 (7931) which was in the stock room) and about 20 series 3 figs. I just grabbed a couple of handfuls from the box at the till. I thought I'd resist buying a box this time because they are, after all, inferior Chinese-made figs, and I don't need a glut of them.
Anyway, back home, I've sorted them out and with the aid of my wife we managed to decipher the dots, which appear to be the same as those on our crib-sheet. I opened one of each different pattern and ended up with 9 uniques, which isn't too bad I suppose. Sadly no fishermen though...
If anyone in the UK's up for a spot of trading, get in touch! I have spare mummies, gorilla guys, snowboard girls and baseball players plus a couple of others.
There was quite a selection of Ninjago out including what I think was the Spinjitzu Starter Set, 2257, for £12.99. There didn't appear to be any sets on sale in the shop, so either it was a short lived sale or they've sold out already.
Update: I'm hearing that Ninjago is available in some branches of Tesco now, too. The starter packs are £7.45 (thanks azzatru)
Commenting has ended on this article.