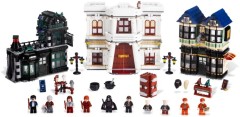 I visited the LEGO Brand Store in Milton Keynes, UK, this morning for a little last minute Christmas shopping & was delighted to see the new Harry Potter 'Diagon Alley' set on the shelf already. £132.99 in the UK. You can see the photographic proof here (sorry about the camera phone image quality).
LEGO's on-line store is still quoting availability from 1st Jan 2011.
Commenting has ended on this article.