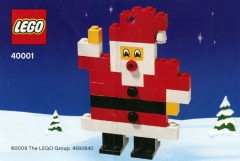 I wish you and your families a very Merry Christmas and I hope all your presents rattle! May I take this opportunity to thank the admins and correspondents for their help on the site over the past year and all of you for being part of the Brickset community. Without you the site would be nothing!
As of now, Brickset members own 1,898,700 sets between them. If you're lucky enough to receive LEGO tomorrow, make sure you add your new sets to your collection here and let's see if we can make it close to 2 million!
To give you something to look forward to once Christmas has passed, today I've been putting the finishing touches on the next batch of site updates which, if all goes to plan, I will launch early next week. So stay tuned!
Commenting has ended on this article.