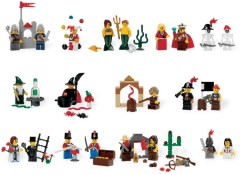 At last! You can now order the first wave of 2011 sets in the UK and elsewhere in Europe! They'll take a few days to make it into our product feed, so for now you can see them all on the Products Launched in 2011 page at LEGOshop.com.
There's a couple of very interesting Dacta minifig packs available, Fairytale and Historic Minifigure set and Community Minifigure set which I have not seen before. Basically they are £40 for 22 minifigs and accessories, which is not too extortionate. I'm tempted to buy the former pack right away...
Commenting has ended on this article.