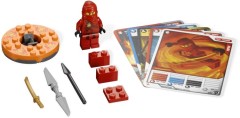 I braved the shops this morning in Southampton (at the crack of dawn to avoid the crowds) and can report that both John Lewis and TRU have most of the Ninjago sets in stock. Bizarrely, they are cheaper in TRU than on LEGOshop.com. The single figure packs are 50p cheaper, £6.99 and lemaskdemasque tells me that others are cheaper as well, by up to £2. Duq reports that Smyths in Ireland has them in stock, too.
I resisted temptation and didn't buy any. The spinner/card packs have the dreaded 'Components made in China...' on the back and peeking through the packaging the minfig legs did appear to be of the tell-tale translucent Chinese type, so that's why I didn't buy those. That's not the case with the boxed sets, though, thankfully, but they didn't really appeal to me, and I'm trying to reduce my LEGO expenditure in 2011 :-)
Commenting has ended on this article.