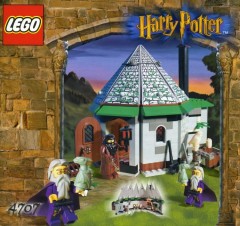 As part of my ongoing commitment to improve the quality of the resources here, I've uploaded high quality scans of every Harry Potter set [1] instruction cover, which are available at the usual width to fit on the page and also at 1200px wide in the additional images section of the set details pages.
In doing so I replaced the official LEGO images, those on the white background, of last year's sets. What is your view on this? Which do you prefer as the main image on the set details pages? The official images or the instruction covers? Personally I prefer the latter as long as the former is available as well, but I'd like to hear your views.
This is the first of this week's Harry Potter related enhancements I'll be making, so stay tuned...
[1] Update: Thanks to Will for providing the last missing image, of 4758, and also to Jon and James of the Brickish Association for providing a couple of others that I was missing. We now have a complete set!
Commenting has ended on this article.