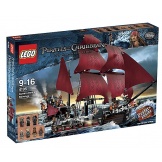 A Dutch toy shop has pictures of the first batch of PotC sets. They are tiny, but you can just about make out a few details, and I have to say, they look pretty good.
LEGO's lawyers may pounce and ask for them to be removed (like they did this time last year with the PoP pictures) but they aren't watermarked and they are on a toy shop website so we're on pretty safe ground...
Update: LEGO's lawyers did pounce: they've been removed...
(via A Modular Life)
Commenting has ended on this article.