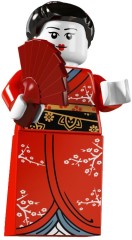 Grogall has uncovered some nice hi-res pictures of series 4 figs, including the previously missing Geisha girl.
While on the subject of new images, a certain Dutch toy shop has published previously unseen images of the Maersk train. I'm not going to provide direct links as LEGO is trying to keep them under wraps, but clearly isn't doing a very good job. Just search for the set number... (thanks typo)
Commenting has ended on this article.