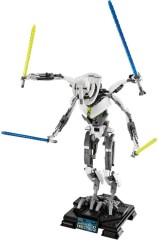 The eagerly awaited General Grievous model is now available to order from LEGOshop.com, £65 in the UK, $90 in the US, which for once is a slightly better exchange rate than usual for Star Wars sets.
It'll be a few days before he appears in our product feed, but don't let that stop you using the yellow link on the left to get to LEGOshop.com to order him!
Commenting has ended on this article.