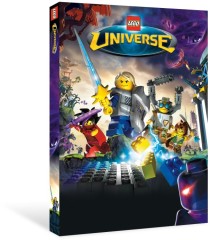 Our focus here at Brickset.com is on brick sets, not all the other ancillary products that LEGO make, and our news section reflects that. Occasionally, there are non-brick news stories that are worth covering ...
Back before Christmas, LEGO slashed the purchase price of the LEGO Universe game to 50% of the original price, and last week LEGO halved the price again - it's now only $9.99 US / 9.99 Euros / £7.49 UK / etc. in the the areas that it is available, a full 75% off the original purchase price. Remember this includes the subscription for the first month's worth of 'game time' ... also note this is the same price as the ongoing monthly subscription rate, so effectively you're getting the game for free when you pay for your first month's subscription. If you've been wondering about the game, now seems like a great opportunity to jump on-board and give it a go!
I'm not sure what this means for the game in the long-term; it appears that the take-up of the game has been less than expected, and LEGO are prepared to do what they feel it's going to take to get people playing the game and paying their monthly subscriptions ... personally I like the game, but I just don't have the spare time to devote to it. I also don't think it's the purchase price that is the problem, but rather the monthly subscription ...
Meanwhile, 'Minecraft' is going from strength-to-strength.
Commenting has ended on this article.