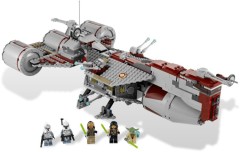 To coincide with Toy Fair New York, starwars.com has published some good quality pictures of some of the summer 2011 Star Wars sets. You can see them here - click on the picture to start the slide show. Make sure you click all the way through to the end to see the new Millennium Falcon set.
No sign of the new 'Naboo Fighter' or 'Hoth Echo Base' sets, confirming that they are likely to be retailer exclusives. (Update by Huw: the Naboo Fighter is in the UK retailers' catalogue but wasn't at the London toy fair).
The figures look great, and there are some nice parts and construction techniques in the new sets, but I'm left a little underwhelmed overall, probably because most of them are re-dos. Great for the newer collector, a bit ho-hum for the old-timer.
Update: I've added them here, while bluemoose was typing this -- Huw :-) (thanks r4-g9 and afhaddad for the news).
Commenting has ended on this article.