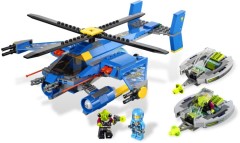 Tech blog Gizmodo has published hi-res pictures of Ninjago, Alien Conquest, Kingdoms and other 2011 sets. I've added some of them here but they are a bit of a nuisance to extract from their site so haven't done them all. If you find any I've missed, by all means send them in.
Some are marked confidential and, assuming they all originated from LEGO, this sends out mixed messages somewhat...
(via the Ugly Duckling and the Brick Blog).
Commenting has ended on this article.