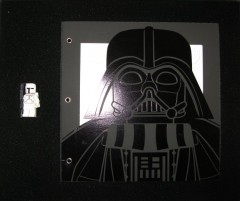 Remember this book we mentioned in November that was given away to LEGOshop.com customers in the USA? Well it appears that the very same book (without the white Boba Fett minifig, unfortunately, or holes punched down the side) is being given away in Argos stores in the UK at the moment.
A friend of mine at work went to the local branch to collect a LandSpeeder for his son today. When he did so, he was told he was a 'lucky random winner for a data book' of which there was one in the store, and was given it by the store manager. Luckily for me, his son is only three so has no use for the book, so he gave it to me. You might well be asking 'what's your friend doing buying a three year old a Star Wars set?' Well, between you and me, I think he's a closet AFOL :-)
It's a very nice book: it's printed on glossy, thick card, around 12 pages long and features full page head-shots of some recent figs, line drawings of figs from recent sets and pictures of the sets they came in. I'll post some photos later. It also has the number '385' printed on the back. I don't know whether that indicates it's number 385 of some limited run, or something else. I guess we won't know until someone else gets one. Thanks Matt!
Update: The Argos website now indicates that you'll get one of these when you buy certain Star Wars sets 'via a leaflet', presumably available in store, until 22nd March, so what are you waiting for: reserve online and get on down to your local branch this weekend before the 'Brickset Effect' strikes again! Thanks to the article commenters for this information.
Commenting has ended on this article.