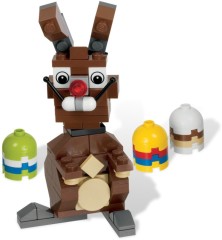 Brickset member kikisfishy found two Easter polybag sets in the Bluewater, UK, LEGO brand store today: 40017 and 40018. Isn't the bunny cute!
Update: As well as these Easter themed polybag sets, three others came to light yesterday: a BrickMaster Ninjago set (20020), Brickley the Sea Serpent (40019), (check out Higgins' pictorial review) who has been found in US brand stores, and Star Wars AT-ST (30054) which looks to me to be pretty much identical to the one released in 2003 in 4486, but without the printed flag for its 'face'.
Commenting has ended on this article.