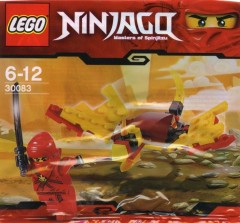 While I wasn't surprised to find the new AT-ST (30054) in the Easter section at my local Target, I also stumbled across Dragon Fight (30083), a really neat Ninjago polybag. As is usual, each set was $3.99. Additionally, they had a bin set up for a polybag entitled "Fireman" with a price of $3.49. Any idea what that might be? Up front at the registers, they were still selling the Toy Story Army Jeep (30071), the Fire Helicopter (4900), and the Atlantis Mini Sub (30042).
Update: The Ninjago Dragon Fight polybag was actually only $3.49 and the 3rd placeholder was just for the older Fire Chief polybag (30010).
Commenting has ended on this article.