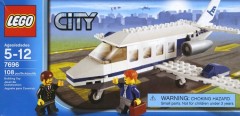 A couple of emails were received today with some interesting shopping news:
* Pre-order LEGO Star Wars 3 at Game and receive a mini Tie fighter (8028). There's no mention of the offer on their website, so it's probably in-store only. (thanks Matt)
* This year's airline exclusive set, 7696, can be bought online from British Airways. When avacadoturban told me this earlier today he said the site was showing 6 available. I bought two shortly afterwards and now it is unfortunately temporarily unavailable. So if you want one, check back in a week or so. The 'Brickset effect' struck before it was even posted here :-)
Commenting has ended on this article.