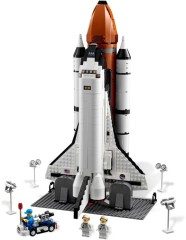 It's been a bit quiet for decent news this week. The most interesting item that's come my way is this from Sann in Singapore, who brought this article at Smashing Bricks to my attention today.
I can't say I had problems building my shuttle or have any stability issues, either. If you are, you can grab the alternate instructions at flickr. But it looks as if you'll need to supply your own bricks...
News may be quiet but there are some very exciting things going down behind the scenes at Brickset Towers which I'll be able to tell you more about soon!
Commenting has ended on this article.