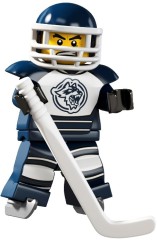 Several Brickset members have bought cases of series 4 figs and have put together dot-code decoders.
NicJ has one at his site minifigcollector.com and achillespdx has posted one on flickr. I haven't compared them closely, but there do appear to be some discrepancies between the two. The dots are so hard to spot that I guess that's understandable. Personally I can't be bothered trying to decode now it's so hard: I just buy a load and trade the ones I don't need...
Commenting has ended on this article.