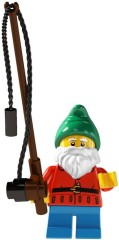 Just a quick 'heads up', Series 4 collectable minifigs have been spotted in selected Tesco stores in the UK; multiple people have contacted us to report that some 'Tesco Extra' and 'Tesco At Home' stores have them in stock as of today, for £1.97 each.
Update: I've just picked up a box from Tesco at West Quay, Southampton. There are 2.5 boxes left. I'll let you know the mix once I've opened them -- Huw.
Update: The UK box consist is as follows:
2: Mad scientist
3: Gnome, Viking, Ice hockey player, Ice skater, Musketeer
4: Geisha, Surf girl, Frankenstein's monster, Skateboarder, Footballer, Hazmat guy, Painter
5: Punk rocker, Sailor, Werewolf
So, bad news for anyone hoping to get 3 complete sets from a box :-(
Commenting has ended on this article.