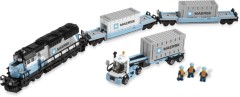 The availability date for the Maersk Train set 10219 has changed to 15 April 2011 for all countries apart from the US and Canada where the orignal date of 01 April still stands.
Update: The release date has been returned to 01 April for all countries with access to shop.lego.com except for South Korea where it appears that this set will not be available.
Commenting has ended on this article.