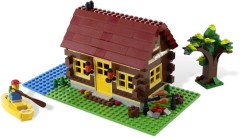 A message from Stuart F today reminded me to post something about the deep discounts at Amazon.co.uk at the moment. Some sets, like the Hogwart's Express are 50% off, while Atlantis 'Guardian of the Deep' (the shark) is 75% off, at just £3.80! The Creator log cabin is 30% off as well.
Prices fluctuate by the hour at Amazon so if you want some of the action, head over there right away. Here's a link to the Bestsellers in LEGO store
that contains them all (and also Brickset's referral code, so you can help the site while you shop!)
Commenting has ended on this article.