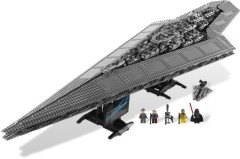 Check out this monster! I'm a bit late breaking this story, but it's definitely worth mentioning. It's legit because the image came from LEGO.com, although I suspect it shouldn't be there, and we'll face the 'Spanish inquisition' from LEGO's community team again :-)
I wonder what price tag it will command?
Update: the source image at LEGO.com has been deleted. Expect me to be asked to remove it soon...
(via Eurobricks)
Commenting has ended on this article.