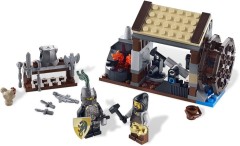 There's good news and bad news on the Toys R Us front.
THE GOOD NEWS: The Toys R Us website is now listing as "In Stock" several new City, Kingdoms, and Alien Conquest sets. This is great timing as we still have 3 days left on the current Buy One, Get One 50% Off sale and each of these themes is eligible. Additionally, the initial 7 Pirates of the Caribbean sets are also still available.
THE BAD NEWS: Unfortunately, the Alien Conquest Mothership (7065), City of Atlantis (7985), City Marina (4644), and Queen Anne's Revenge (4195) are still not available. Additionally, Toys R Us has just added their markup to all of the initial Pirates of the Caribbean sets. :o(
Thanks to Brickset members rotaylo and robsuckylife as well as Forum members typo and mkoesel for the news.
Commenting has ended on this article.