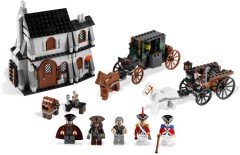 All of the initial PotC sets except The Captain's Cabin (4191) are now available for order online at Target. Thus, it probably won't be too long before we start to seem them in stores. Additionally, they're listed at MSRP at Target while Toys R Us has already marked most of these sets up. Thanks to Brickset member vpustote for the news. Click here to buy.
Update: I found all the sets except for the Queen Anne's Revenge at our local Target last night. I'm pacing myself, though, so I only bought the Zombie Pirates. ;o)
Commenting has ended on this article.