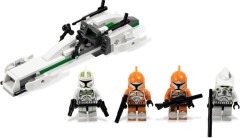 Wait until next week when LEGO will be running their annual 'May the Fourth' promotion. On 3rd and 4th May there will be exclusive offers in brand stores and online:
- Free poster featuring UCS sets
- Free delivery on orders over £50
- This is the biggie... Free Shadow ARF Trooper minifigure on orders over £50
- Exclusive sales and deals on SW sets.
These are the European offers. If you've heard what they are in the USA, then let us know. The offer page at http://shop.lego.com/promotion/Default.aspx?SW2011 doesn't tell us much yet...
Commenting has ended on this article.