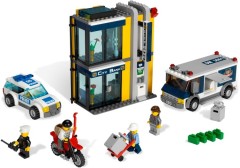 Set 3661 "Bank and Money Transfer" has appeared at Kmart stores with a price of 89.00 AUD. At this price, it might be worth waiting for one of the sales that Kmart has from time-to-time on LEGO sets.
From what I understand, Kmart will be the only Australian 'bricks-and-mortar' retailer to carry set 3661 on their shelves.
Commenting has ended on this article.