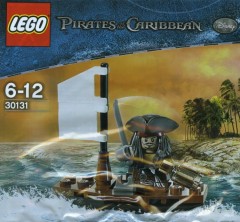 Markey reports that "there will be a free LEGO promo set in next week's News of the World newspaper. I saw an ad in The Sun today. The set is 30131, 'Captain Jack Sparrow's boat'. Tomorrow, they'll have PotC sticker book and stickers."

It's bad enough having to buy The Mirror to get free LEGO but the NotW? We'll have to put bags on our heads when we go to the till to avoid the shame of it :-)
No word as to whether it comes with the paper or whether you collect it from somehere. I rather think it'll be the former given the thickness of most Sunday papers, that are often plastic wrapped. Let's hope so. You really will get some funny looks taking an armful of copies to the till, though :-)
Update: there's more! There'll be a total of seven sets to collect in The Sun and the NotW starting on 14th May, next Saturday.
See http://www.hotukdeals.com/deals/free-lego-now-with-sun/934151. Unfortunately it's collect at WHS and TRU, not with the paper :-( Thanks to Hob and atkinsar for this extra info.
Commenting has ended on this article.