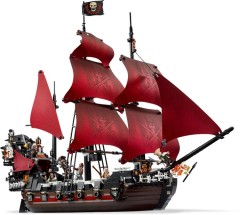 Several people have reported seeing new sets from the Pirates of the Carribean range and the Duplo Cars range on shelves at Target stores.
Prices at Target are currently at LEGO Australia's RRP, so it is still much cheaper to source these sets from the US - if you can find them online! Apparently, Australian customers who placed orders with Barnes & Noble for LEGO PotC sets recently have all had their orders cancelled, due to "no stock available".
Thank you to Brickset members shokwave2 and Dr. Rod and also toDinkums-Dazza (via Facebook) for your information.
Edit: Just in the mail today, and also as noted by Brickset member, TinyTurbosCityAndToyStory, was a catalogue from Big W advertising that they are now carrying the new Cars (non-Duplo) sets also. More details in the comments.
Commenting has ended on this article.