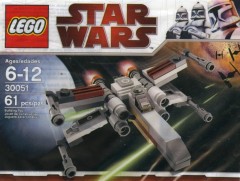 Just in case you haven't heard, there's good news and bad:
The goods news is that there's free LEGO with The Sun newspaper this week! The bad news is that there's no voucher redeem offer which means you have to collect the set in WHS or TRU on the day. This is extremely inconvenient for me given I'm 5 miles from the nearest WHS and go nowhere near one on my way to work. My local WHS said they got 4 boxes in today and expect them all to go by lunchtime.
Today it's this mini X-Wing. Find out what's coming later in the week on atkinsar's BrickList.
Commenting has ended on this article.