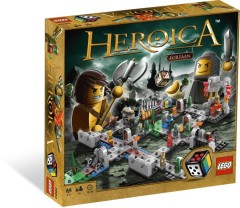 We've been getting reports that the new Heroica Games have been spotted on the shelf in US Toys R Us. This is an interesting take on the LEGO games genre, a modular game system that you can extend by buying extra sets ... applying the modular ethos of LEGO to a range of games. I'm looking forward to getting my hands on Heroica and giving it a go. If it's any good, I can see it being heavily extended by the community and becoming a mainstay of AFOL events :-)
Thanks to georgebjones and others who let us know.
Commenting has ended on this article.