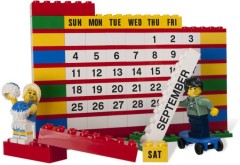 Check out this neat Brick-built calendar that's been reviewed on Eurobricks which features two series 1 minifigs and which is presumably going to be available in brand stores.
One thing the review doesn't point out is whether it's been manufacured by LEGO or by their their Chinese outsource partner, Broadway. I suspect that, given it has collectable figs in it, it will be the latter, like the similar 'Countdown Candle'.
Commenting has ended on this article.