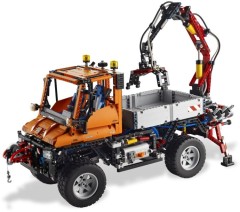 We at Brickset don't often get an opportunity to get excited about Technic sets, despite it being one of my favourite themes, having been brought out my dark ages by 8868 Air-Tech Claw-Rig way back in 1994. I've bought virtually every technic set released since then and I am particularly looking forward to this, the largest Technic set ever with over 2000 pieces.
It's getting coverage over on several real vehicle news sites this week because as it turns out, it's a Mercedes-Benz licenced product being released to celebrate the Unimog's 60th anniversary. Read what's being said over on Car and Driver blog, and then see it dissected for new parts at TechnicBRICKs.
The article says 'The kit goes on sale in August and will be available from both LEGO and Mercedes-Benz for £190, or about $275 at current exchange rates' which makes it the most expensive Technic set as well!
What do you think: your dream set, or way too expensive?
(thanks DLuders for the news)
Commenting has ended on this article.