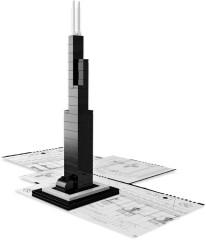 The Burj Khalifa and Farnsworth House Architecture Series sets have been available from UK LEGO Brand Stores for a few weeks, but the White House and Rockefeller Center sets have now finally joined them on the shelf in the UK ... and also a 3rd set, which isn't exactly new ...
LEGO have rereleased the #21000 'Sears Tower' set, rebranded as #21000 'Willis Tower' to reflect the change of ownership and name of the real Chicago landmark tower. I've added it to the database as set #21000-2. We'll add a set image as soon as we have one available.
Commenting has ended on this article.