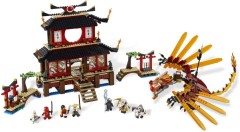 Around 50 instructions have been added to the LEGO.com customer services site today, including Star Wars and the Pet Shop. To save you the trouble of finding them there yourself, as usual you can see them all listed on our new instructions page.
Several of them are for sets that haven't been released yet, including this Fire Temple and other Ninjago sets.
Commenting has ended on this article.