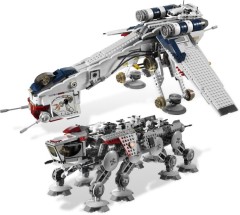 Valid this Wednesday (6/15) through Saturday (6/18), Toys R Us is having yet another Buy One, Get One 50% Off promotion, but this time on All sets and games. Please note that there is not the ususal * after "All" as this sale applies to everything! I know I've cried wolf before, but this may very well be the best sale ever. There's good news and bad news and good news. The good news is that nearly every set offered online by TRU was in stock at the stroke of midnight last night. The bad news is that several of the direct sets quickly depleted. The Death Star, Fire Brigade and Medieval Market lasted less than 30 minutes and were quickly followed by the Emerald Night and Tower Bridge. Overnight, it appears the only notable losses were the Emporium and the Cargo Train. But there's still more good news. As of right now, the NXT 2.0, AT-OT, Imperial Shuttle, Technic Excavator, Imperial Flagship, Tantive IV, Diagon Alley, Hogwarts and Queen Anne's Revenge are still in stock. And there have been occasions where depleted sets return to stock, so keep checking!
Good Hunting!
Update 8:30am: Well, that didn't take long. The Imperial Shuttle, Diagon Alley, and Imperial Flagship are now depleted.
Update 9:45am: Tower Bridge, Fire Brigade, Death Star, Cargo Train, Flagship, and Emerald Night now back in stock!
Commenting has ended on this article.