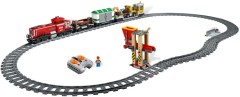 The latest consumer LEGO product catalogue, which I have just received, contains the new set releases due out in the next few months. Included is the Red Cargo Train set 3677 and most of the other new set releases that we already know about here at Brickset.
There was some early debate about whether or not this was a genuine set when news first broke earlier this year after the set had been seen in a display in Denmark. But now we can confirm that it will be arriving at a station near you anytime soon!
Commenting has ended on this article.