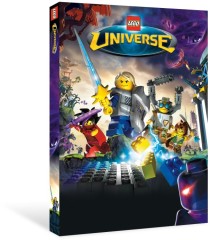 From the LEGO Universe site: "Coming this August a Free-to-Play version of LEGO Universe will be available for download from LEGOuniverse.com! This new, Free-to-Play version of the game will make the game more accessible to new players. Free players will be able to create a character, explore two zones, and build on their own property –giving them a taste of the LEGO Universe experience."
While it might smack of desperation and a last-ditch attempt to get people playing what has obviously not been a success, I think it's actually very sensible and something they should have done from day one. People are far more likely to play, and then pay to play if (a) they don't have to buy a physical product to start and (b) they can see what it's like before paying out for it. This model is hugely successful in the mobile game arena (think Smurfs Village on iPad) and will, hopefully, get more people on board. Now all we need is an iPad version then even I might consider playing...
When I post LU stories, I always ask: are you playing it? Is anyone still playing it having started doing so when it was launched?
Thanks to Alemas for tipping us off on this!
Commenting has ended on this article.