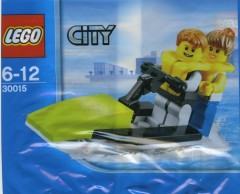 kempo81 told us today "I have just been into my local Esso petrol station and they are running a promo on LEGO City sets. The deal is you spend £20 pounds or more on Fuel and you can purchase one of 6 City polybag sets for £1.50.
"I couldn't see any specific terms and conditions up and there was no indication of limitations with regard to the number of sets you could purcase per transaction. From what I can tell its the following sets:
I've just checked the Esso website and found this news article that provides more information. However despite what it claims, only two are exclusive. 30015 Jet Ski certainly hasn't been seen in the UK before, and 30014 has so far only been available in the USA, but the others have at one time or another through Daily Mirror/Sun promotions.
Update: I got lucky at my local garage just now. The woman at the till looked blankly when I asked her for 2 of the sets, apparently having just returned to work and not been told anything about them. I could see the pile of boxes behind the till so I told her the ones I wanted, she fetched them but didn't know whether to scan them or what, so she just gave them to me. Arguably they should be free with £20 of fuel, anyway...
Commenting has ended on this article.