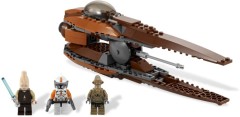 Valid Sunday 7/17 through Saturday 7/23, Toys R Us is running yet another BOGO 50% Off sale, this time on all Star Wars, Harry Potter, Creator, Technic and Duplo construction sets. The sale is already live online and a number of great sets are available including, but not limited to, the Death Star, Tantive IV, Diagon Alley, Hogwarts, Ewok Attack, Fire Brigade, Emerald Night, and Geonosian Fighter. For some reason, the Grand Emporium is not registering the sale but you might be able to get TRU Customer Service to credit you back after the purchase should you feel daring. :o)
Additionally this week, you will receive a free Snowman or Christmas Tree polybag with any LEGO construction set purchase of $30 or more. As usual though, this "secondary' promotion does not appear to be stacking online with the BOGO sale.
As always, try to buy similary priced sets in order to maximize the discount and don't forget that you receive free shipping with any purchase of $75 or more.
Commenting has ended on this article.