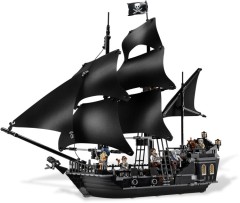 There's been confidentially watermarked images of the Black Pearl around for a while, followed by some doctored ones, where someone has removed the watermark in Photoshop in an attempt to fool the likes of Brickset, but now, at last, a German online toy shop brings us legitimate hi-res photos showing the ship in all its glory.
It's smaller than the QAR, comes with 6 minifigs: Jack Sparrow, Davy Jones, Joshamee Gibbs, Will Turner, Maccus, and Bootstrap Bill Turner. It'll cost around €100, and is released at the end of October.
Thanks to Jörn for the news!
Commenting has ended on this article.