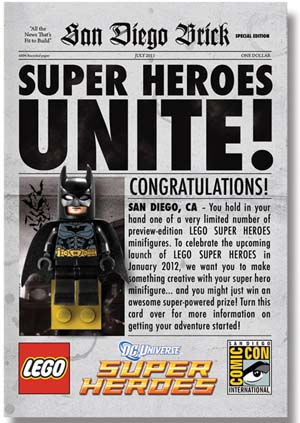 Exciting news broke overnight on the Variety website, on the eve of ComicCon: LEGO and Warner Brothers have expanded their relationship giving LEGO access to the complete DC Comics character collection including Batman, Superman, Wonder Woman and villains the Joker, Bane, Harley Quinn and Lex Luthor.
I know that this will be very welcome news for many of you who perhaps missed out on Batman first time around.
Although the first wave of sets is not due out until next January, expect to see the first pictures of them once ComicCon gets underway. Unfortunately none of Brickset's staff will be there but Ace from FBTB will be, so keep an eye out for the sets over there.
Update 1: Check out http://www.legosuperheroes.com/ for pictures of Superman, Batman and the Green Lantern!
Update 2: (I can't keep up with this!) Now it seems LEGO has a Marvel licence as well!
Update 3: DC and Marvel minifig pictures now on flickr: Check out Wolverine, Iron Man, The Hulk, Wonder Woman and more!
Update 4: Buildable super-heroes (like Ben10) at Eurobricks.
Keep an eye out at FBTB for more.
(all via FBTB and your comments)
Commenting has ended on this article.