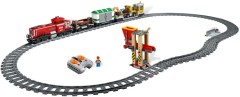 We haven't heard about availability in any of the other UK LEGO Brand Stores, but the new City Red Cargo Train, set 3677, was spotted on the shelf in the Milton Keynes Brand Store earlier today; looks like they received it in their regular Tuesday delivery. I'm sure there will be a few happy train-heads out there by now!
UPDATE - It's been pulled from the shelves; apparently it isn't supposed to be on sale in the UK until 1st August. So it's OK to sell it in the US, but not in the UK, even though they actually have it in the store? LEGO really need to stop this arbitrary discrimination between different countries.
Commenting has ended on this article.