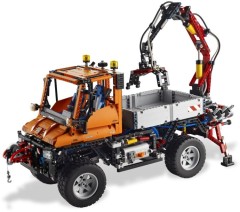 New LEGO sets for the 2nd-half of the 2011 calendar year are now available online at shop.lego.com and in LEGO brand stores. The sets primarily span the Hero Factory, Ninjago, Technic, and Duplo themes.
Some notable additions are the 8110 Technic MB Unimog, which finally confirms the suspected price of USD 199.99, and a new LEGO board game called LEGO Champion, which looks to be a family style game in the same vein of Creationary.
To easily browse the new sets, visit http://shop.lego.com (or click the link in the top right corner) and click the "What's New" section of the Shop Features on the right hand navigation pane.
Also, since it's August 1st, you can expect to see big box retailers like Target and Wal-Mart refresh their displays with this latest stock which will carry us through to the holiday season.
Commenting has ended on this article.