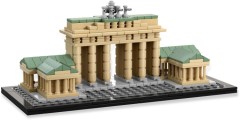 Thanks to forum member bricknation who purchased this set legitimately in the retail shop at the LEGOLand Discovery Centre, Manchester, UK , we posted the first picture of this two weeks ago.
It turned out that it should not have been on sale yet and a September announcement was planned, but rather than just plug the source of the retail leak and accept that it was now in the public domain, LEGO asked Brickset to remove the image. I felt it was an unreasonable request given the circumstances, but as I had just started my vacation and intent on 'getting away from it all' for a couple of weeks, I removed it for the sake of a quiet life.
Now, in a interesting turn of events, it's actually pictured and announced on the September store calendar, as shown in the Toys N Bricks forum. I have therefore reinstated the picture here.
When things like this happen, do you think it reasonable for LEGO to treat the fan community like this (and should we obey their every command?), or should they instead look to tighten their internal processes to prevent them in the future?
Update: Bricknation has now posted an excellent review of the set at EuroBricks.
Commenting has ended on this article.